PUPPIES
6 tikar och en hane födda den 10 mars och börjar levereras den 5 maj.
Puppies born 10th of march and free to go from 5 may, 6 bitches and one dog.
e. Reason to Rave "Bolt" SE 39092/2012
u. EUWJ-12 SEU(U)CH Caci´s Sorry I Need to Win

Bolt är en import från Scotland som vi väntat på i många år. Vi försökte
para med hans farfar och farfars bror men misslyckades så äntligen fick vi
köpa en sonson till BIS-vinnaren från Crufts 2011 GBSH V´Bos The
Kentuckian. Bolt har en överlinje som man sällan ser, han bär sin front på
ett underbart sätt. Ramlar inte ihop som många gör under rörelse utan är
hela tiden väldigt hög på fronten. Han har verkligen det rastypiska
"styrka förenat med elegans". Hans huvud är superelegant och följs av en
lång elegant hals men benstomme och kropp förknippar man med styrka.
Massor av päls och mörka jättefina ögon. Parallell bak och fram och härlig
steglängd från sidan. Mentalt är Bolt en drömflat, snäll med andra hundar
och självklart snäll med alla människor. Lugn och väldigt tyst men med en
härlig näsa och har ett självständigt sök men ändå följsam.

Gerda är vår lilla pärla, ljuvligt huvud med underbara mörka ögon.
Fantastiskt förbröst och helt fantastiskt långa marktäckande sidorörelser.
Parallell bak o fram. Massor av päls. Blev snabbt champion och fick sina
cert i hård konkurrens. Väldigt tyst och lugn, vill helst ligga inne och
gosa.



ENGLISH
Finally we are capable to use our Scottish import "Bolt". We waited so
long to get something out of the Crufts BIS-winner 2011 V´Bos The
Kentuckian, tried to breed to him and his brother twice. So now finally we
got Bolt that is a grandson to him. Bolt got a gorgeous topline both in
standing and moving, he always carries his topline perfect, keep his front
up. He got a very elegant head and neck and a lots of strenght in body and
bone. Hugh coat in perfect quality. Very quiet and good behaving all the
time. Works a lot with his nose.

We use him on our litte pearl "Gerda". Very quickly became a champion in
tuff competition. Really cover the ground with her gorgeous side
movements. Very cute feminine head with dark beautiful eyes. Excellent
forchest and body and hugh coat. Likes most to be indoors sleeping in the
bed with someone. Also very quiet and ofcourse behaving good to everybody.
e. Rotherfield Reason To Rave "Bolt"

Hör av er för mer info 0243-25 51 22
For more information about our puppies, +46 243 255 122
Kull 2

e. EUW-12, NordV-11,12, NoV-11,12, HelsV-11 C.I.E.UCH SEU(U)CH ROUCH NOUCH
Caci´s Win-A-Latte "Kimmi" Vinstrikaste utställningsflat 2012 i Sverige
NO # 1 # SHOW Flat-Coated Retriever of the year in Sweden 2012 and No 2
last year after our MultiCH and MultiV Caci´s A boy like Daddy.
S21389/2008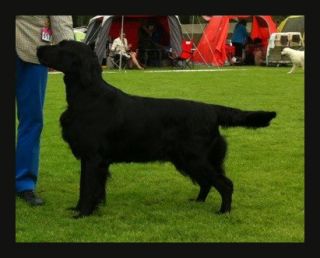 u. Caci´s Mc Flurry Dajm S42118/2008

7 svarta hanar, 1 brun hane och en svart tik

Valparna föddes den 11 april och är klara för att börja levereras den 6 juni.

7 black boys and 1 brown boy and only one black bitch.

Puppies born on the 11th of April and ready to go from 6th of June.

Äntligen kunde vi använda vår STOLTHET "Kimmi" trevligare hund får man
leta efter. Han är precis som sin far NordV-07 SEU(U)CH NOUCH Branchalwood
Aylancoll, alltid perfekt beteende i alla situationer. När han ska vara
glad och showa gör han det, när han ska ligga lugnt och sova gör han det.
Han har en enorm kapacitet för "will to please" som är flattarnas
önskvärda temperament. Hans exteriör "hur han ser ut" behöver nog inte
beskrivas, hans titlar talar för sig själva.

Smilla är mamma till valparna och hon är efter långlevande linjer. Hennes
mormor dog ifjol 14,5 år gammal. Hennes mamma ( 11 år)och pappa (8 år) är
såklart still going strong. Smilla är en liten elegant tik med härlig
benstomme och helt underbara rörelser,som lämnat mycket trevliga och sunda
valpar. Hon är alltid glad och villig att hänga med på allt. Väldigt
följsam och lugn.

ENGLISH

Finally we could use our "proud" Kimmi. He is as kind as his father
NordV-07 SEU(U)CH NOUCH Branchalwood Aylancol, always the perfect manner
in every situation. When he is suppose to show and wagging the tail he do
that, and when you like him to calm down and sleep, he will do that. He
really got the perfect flat temperament "Will to please". You could see
that he is excellent constructed on all his titels.

The mother "Smilla" is a small, very elegant and feminine bitch. A lots of
bone and coat and moves just gorgeous, really cover a lots of the ground
and parallell both in front and back.
Hör av er för mer info 0243-25 51 22
For more information about our puppies, +46 243 255 122